HVS Venturi-Type LP/Air Mixers
No Compressed Air Required
For Complete Vaporizer/Mixer Systems, follow this link.
Alternate Energy Systems' venturi type LPG/air mixing systems are designed around the "Hallberg Venturi". This high-efficiency tube/nozzle combination is used in several different sizes throughout the range of our products.

The systems described here are intended to be used with new or existing LPG vaporizers, either as replacement for LPG/air mixing systems from other manufacturers, or in the conversion from straight LPG applications to LPG/air systems. They are simple in design, easy to integrate with existing equipment, and require only AC 115V 60 Hz (or AC 230V 50 Hz), single phase electrical supply for operation.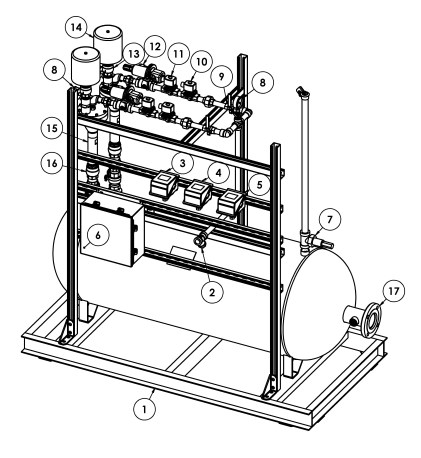 Steel Skid
Vapor Header Inlet
Low Vapor Pressure Switch
Venturi Operator Switch
High/Low Mix-Gas Pressure Switch
Control Enclosure
Surge Tank Relief Valve
Pressure Gauges
Isolation Ball Valve
"Static" Safety Solenoid
"Dynamic" Operating Solenoid
Pressure Regulator
Air Intake Check Valve
Air Intake Silencer
Venturi Tube/Nozzle Assembly
Mix-Gas Check Valve
Flanged Mix-Gas Outlet
General Description
All HVS Systems are designed to be used with a new or existing LPG vapor source, such as a vaporizer, or as the replacement for less efficient or less reliable LPG-vapor/air mixing systems. They come complete with steel skid, vapor inlet header, venturi arrangements, surge tank, mechanical/electronic controls, and all other equipment necessary for safe and reliable operation.

All HVS systems monitor the gas pressure in the surge tank. Smaller systems of one or two venturi arrangements use pressure switches and mechanical controls. Larger systems with three or more venturi arrangements use a pressure transmitter which is connected to a Programmable Logic Controller (PLC; Siemens or Allen-Bradley). The PLC "sequences" the venturi lines and controls all system safety functions. The PLC also communicates with an Electronic Operator Interface (HMI) with color LCD display and touch screen, indicating system pressures, Venturi status, and any trouble conditions that may occur. The PLC may also be used to "interlock" the HVS system with an external vaporizer.

Installations where the mixer system is separated from an open-flame vaporizer, and installations with electric vaporizers, require the option "Explosion Proof Control Components", which includes explosion proof transmitters and solenoid valves. The control panel for mixers with less than three venturi trains (HVS-7 to HVS-14) is installed on the mixer skid. The control panels for all systems with PLC controls are designed to be installed in a non-hazardous location, with a simple Start/Stop station that is installed directly at the blender skid.
Mixed Gas Pressures of more than 12 psi require the "Air Assist" Option. The Air Assist Option includes an ASME "U"-stamped surge tank, and UL-listed relief valves and requires compressed air for operation.

All HVS Mixers are equipped with two solenoid valves per venturi train. The "dynamic" solenoid valve opens and closes each time a venturi train is activated to produce mixed gas. The "static" solenoid valves opens when the mixer is started and stays open until the mixer is stopped, or until a high-pressure alarm occurs. This feature provides an additional level of safety and prevents the unwanted discharge of mixed gas in case of a failure of the "dynamic" solenoid valve.
How it works
Passing pressurized LPG vapor through a venturi arrangement to inspirate air, the BTU content of the mixture is determined by properly regulating the LPG vapor pressure. The LPG/air mixture is directly compatible and interchangeable with natural gas, and is collected in a surge tank, which is part of the system. The pressure in the surge tank is monitored by pressure transmitters (smaller systems use pressure switches), and is set to the required system pressure (delivered gas pressure). When  pressure in the surge tank drops due to the outflow of gas to the process, solenoid valves at the inlet side of the venturi systems are opened, allowing pressurized LPG vapor from the vaporizer to flow through the venturi nozzle/tube combination, and thereby generating the LPG/air mixture. When the pre-set pressure in the surge tank is again reached, the solenoid valves are closed and the system rests until demand for gas repeats the cycle.

Stand-alone systems come complete with vapor inlet header, venturi assemblies, pressure regulators, surge tank, blow down, safety relief valve protection, high and low mix gas safety, low propane pressure safety, and dual check valve system.The entire system is mounted on a common steel skid for easy installation.

All standard systems are manufactured to the requirements of the ASME BPV Code, the latest edition of NFPA #58, and are approved for Factory Mutual (FM) or Industrial Risk Insurers (IRI) installations. The  model number (HVS-XX) of the venturi system designates capacity in millions of BTU per hour LPG-air mixture.

Standard Models have an output pressure of 5 psi LPG/air mixture, with pressures of 5 to 8 psi obtained by factory adjustment. Other naturally aspirated configurations are available for delivery pressures up to 12 psi. These configurations require very high motive (LP vapor) pressure, and are not recommended for installation in regions with low ambient temperatures. High Pressure Models with delivery pressures up to 50 psi LPG/air mixture are also available with the "Air Assist" option. These systems require compressed air for operation.
AES VenturiLPG/Air Mixers include the following features:
Capacities from 7MMBTU/h to over 200 MMBTU/h
Complete with Steel Skid, Controls and Surge Tank
Dual Solenoid Valves for each Venturi ("Static" & "Dynamic")
For Standby Systems or Peak Shaving Applications
For Combination with New or Existing Vaporizers
Replacement for existing, less reliable mixers
Standard Mechanical Controls for smaller systems (up to 20 MM BTU)
PLC Controls for larger systems
Also available as packaged system with vaporizer (common skid)
Meet industry specifications outlined in ASME Boiler & Pressure Vessel Code and NFPA #58.
Factory Mutual (FM) or Industrial Risk Insurers (IRI) approved.
Units are factory tested, primed, painted and ready for installation and connection to vaporized LPG supply.
Standard safety equipment for High Mixed Gas Pressure, Low-Mixed-Gas Pressure, Low-Propane-Vapor Pressure, Pressure Relief Valve for Surge Tank.
Compact HVS
Models with one or two venturi trains (HVS-7, HVS-10, HVS-14, HVS-20) are provided in "Compact" configuration. These models are specifically designed for air freight shipment (small footprint, reduced height, removable relief valve stack, etc.). There is no price adder for these models.