Packaged Systems: WaterBath Vaporizer & POM Blender
Horizontal Water Bath Vaporizers with POM Blender Modules Overview
These skid mounted, packaged systems combine WB-series water bath vaporizers and our patented Piston Operated Mixers, POM. They are designed for capacities of 15 MMBTU/h (3.5 MMkcal/h) to over 500 MMBTU/h (125 MMkcal/h) and are manufactured to meet or exceed requirements of the ASME Pressure Vessel Code and latest edition of NFPA Pamphlet #58. Complete with interconnecting piping and wiring, they are ready for connection to liquid propane inlet, properly sized electrical and mixed gas outlet.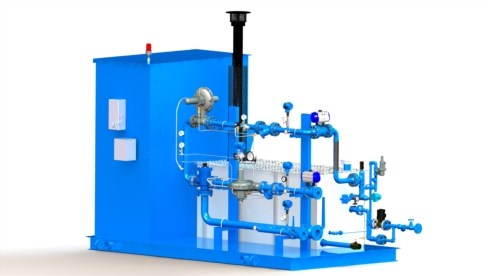 Requiring clean, dry compressed air for operation, the blending system is usually installed on the same concrete pad as the vaporizer, but can also be mounted in vertical orientation next to the water bath vaporizer (see drawing on left). Applicable for continuous duty or total stand-by, the units are designed for better than 50:1 turndown ratio. The PLC-based control system provides real-time information on vaporizer and blender status, first-out failure analysis, alarm history, graphic trend recording, and color LCD display with touch-screen operator interface.

The vaporizer model number (WB) designates gallons per hour propane vaporization at 0 °F liquid temperature, and the blender is sized according to millions of BTU per hour propane-air mix requirements. For detailed information, please refer to the sections for water bath vaporizers and piston operated mixers.
AES Module Units include the following features:
Designed to supply Propane-Air Mixtures compatible with Natural Gas requirements of 15MM BTU to over 500MM BTU per hour.
Vaporizing and Mixing units are skid mounted.
Meet industry specifications outlined in ASME Boiler & Pressure Vessel Code, Section VIII, Division I, and NFPA #58.
Factory Mutual (FM) and Canadian Standards Association (CSA) approved; suitable for IRI installations.
Forced-Draft Power Burner.
Electronic Flame Safeguard System.
Electronic System Controls (PLC) with First-Outage Monitor and Digital Operator Interface. Color LCD display with touch screen operator interface standard.
Controls are mounted in weatherproof cabinet.
Units are factory tested, primed, painted and ready for installation and connection to vaporized liquid propane supply.
Available Options:
ASME "U" Stamp
National Board Registration.
Enlarged vaporizer control room or separate mixer and control room building.
Automatic Gas Properties Control (Wobbe Index, O2 content, Calorific Value, or Specific Gravity)
Flow Control System for Peak Shaving
Remote Monitoring and Control (Ethernet or Wireless)
Integration into existing Plant Control Systems (SCADA)
High-Pressure Configuration up to 300 psi / 20 bar
.
WB-Vaporizer/POM-Mixer Configurations for selected System Pressures and Standard Propane Applications.
Configurations for other LPG mixtures may vary. Other Vaporizer/Mixer combinations are available; contact your  distributor or the factory for details.



** NatGas Equivalent:      In most cases, these systems will be used to provide backup for a NatGas  supply. Including a sufficient safety factor (1.1 ... 1.3), use the  maximum expected NatGas flow per hour to select the correct WB/POM  model.

Vaporizer
        Model
Nominal
        Capacity
        MMBTU/h
NatGas**
        Equivalent
        Nm³/h
System Pressure
10 psi
0.7 bar
20 psi
1.4 bar
30 psi
2.1 bar
40 psi
2.8 bar
50 psi
3.5 bar
60 psi
4.2 bar
70 psi
4.9 bar
       

WB-168

       

        15

424
       

POM-30
-9

       

POM-30
-9

       

POM-30
-9

       

POM-30
-9

       

POM-30
-9

       

POM-30
-9

       

POM-30
-9

       

WB-208

       

19

538
       

POM-30
-9

       

POM-30
-9

       

POM-30
-9

       

POM-30
-9

       

POM-30
-9

       

POM-30
-9

       

POM-30
-9

       

WB-258

       

24

679
       

POM-30
-9

       

POM-30
-9

       

POM-30
-9

       

POM-30
-9

       

POM-30
-9

       

POM-30
-9

       

POM-30
-9

       

WB-308

       

        28

792
       

POM-30
-9

       

POM-30
-9

       

POM-30
-9

       

POM-30
-9

       

POM-30
-9

       

POM-30
-9

       

POM-30
-9

       

WB-358

       

33

934
       

POM-40
-9

       

POM-30
-9

       

POM-30
-9

       

POM-30
-9

       

POM-30
-9

       

POM-30
-9

       

POM-30
-9

       

WB-408

       

37

1047
        POM-40
-9
       

POM-30
-9

       

POM-30
-9

       

POM-30
-9

       

POM-30
-9

       

POM-30
-9

       

POM-30
-9

       

WB-458

       

42

1198
       

POM-40
-9

       

POM-30
-9

       

POM-30
-9

       

POM-30
-9

       

POM-30
-9

       

POM-30
-9

       

POM-30
-9

       

WB-508

       

47

1330
        POM-40
-9
       

POM-30
-9

       

POM-30
-9

       

POM-30
-9

       

POM-30
-9

       

POM-30
-9

       

POM-30
-9

       

WB-555

       

51

1444
       

POM-40
-9

       

POM-30
-9

       

POM-30
-9

       

POM-30
-9

       

POM-30
-9

       

POM-30
-9

       

POM-30
-9

       

WB-655

       

60

1699
        POM-40
-9
        POM-40
-9
       

POM-30
-9

       

POM-30
-9

       

POM-30
-9

       

POM-30
-9

       

POM-30
-9

       

WB-755

       

69

1953
       

POM-40
-9

       

POM-40
-9

       

POM-30
-9

       

POM-30
-9

       

POM-30
-9

       

POM-30
-9

       

POM-30
-9

       

WB-855

       

79

2237
        POM-40
-9
       

POM-40
-9

       

POM-30
-9

       

POM-30
-9

       

POM-30
-9

       

POM-30
-9

       

POM-30
-9

       

WB-1005

       

92

2605
       

POM-60
-9

       

POM-40
-9

       

POM-40
-9

       

POM-30
-9

       

POM-30
-9

       

POM-30
-9

       

POM-30
-9

       

WB-1205

       

111

3143
       

POM-60
-9

       

POM-40
-9

       

POM-40
-9

       

POM-40
-9

       

POM-30
-9

       

POM-30
-9

       

POM-30
-9

       

WB-1505

       

139

3936
       

POM-60
9

       

POM-60
-9

       

POM-40
-9

       

POM-40
-9

       

POM-40
-9

       

POM-30
-9

       

POM-30
-9

       

WB-1805

       

166

4700
       

POM-80
call AES

       

POM-60
-8

       

POM-40
-8

       

POM-40
-8

       

POM-40
-8

       

POM-40
-8

       

POM-40
-8

       

WB-2005

       

185

5238
       

POM-80
call AES

       

POM-60
-8

       

POM-60
-8

       

POM-40
-8

       

POM-40
-8

       

POM-40
-8

       

POM-40
-8

       

WB-2205

       

203

5748
       

POM-80
call AES

       

POM-60
-8

       

POM-60
-8

       

POM-40
-8

       

POM-40
-8

       

POM-40
-8

       

POM-40
-8

       

WB-2505

       

231

6541
       

POM-80
call AES

       

POM-60
-8

       

POM-60
-8

       

POM-60
-8

       

POM-40
-8

       

POM-40
-8

       

POM-40
-8

       

WB-3005

       

277

7843
       

POM-100
call AES

       

POM-80
call AES

       

POM-60
-8

       

POM-60
-8

       

POM-40
-8

       

POM-40
-8

       

POM-40
-8

POM-30, POM-40, and  POM-60 are available with Fisher 99 or Fisher 1098EGR regulators for  installations with sufficiently high LP-vapor supply pressure (100-125  psi) and should be used only if the LPG consists at least of 80%  Propane. Higher Butane content and/or lower LP-vapor pressure may  require different regulator configurations. Specifications are subject  to change without notice.
Model Numbers with Suffix -9 indicate Fisher 99 regulators; Model  Numbers with Suffix -8 indicate Fisher 1098EGR regulators. Call factory  or distributor for price quotation and actual lead times.
For detailed System Specifications, follow these links: