Company Profile
History, Outlook, Customer List, and General Information about Alternate Energy Systems, Inc.
Vaporizers, Mixers/Blenders, Vaporizer-Mixer Combinations, and related Systems and Components for Propane, Butane and other LPG for Industrial, Commercial and Utility Applications.
"At AES, "just good enough" is never good enough.  AES is committed to both quality products and customer service.  We strive to understand our customers and to continuously improve so we can exceed their needs and expectations."
Steven Chambers, President

History
From the beginning in 1974, Alternate Energy Systems (AES) has put emphasis on excellent and innovative product design and quality workmanship. The founder of the company, John E. Hallberg had spent many years designing products for other manufacturers in the industry before he set out to design and manufacture a product line that represented, "...the combination of the best ideas from over 20 years of experience..." The result was products which were truly superior to those of his competitors - very quickly giving AES the reputation of being an innovative manufacturer of quality products.

Soon, the customer list comprised a representative cross-section of Fortune 500 companies across the U.S.

Through the years, AES has constantly added new products and has further improved the design of its existing products - keeping them consistently ahead of their competition.

Several designs, including those of LPG/Air Mixing Systems have been awarded national and international patents.
Customers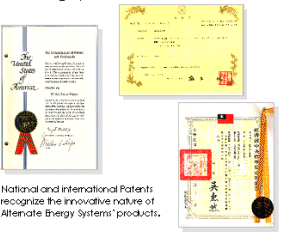 Over the course of the past 45 years, AES products have been installed in countries all around the world - from the extreme cold climates of the Arctic, to desert Middle East countries with extremely warm climates and extreme day/night temperature swings.

In the early 1990s, AES began exporting product to the Far East - mainly to China - where it was used by utility companies as a primary fuel source in their effort to replace environmentally critical fuel sources with clean-burning natural gas.

Where natural gas pipelines do not (or not yet) reach a city, LPG/air gas, generated with AES' superior POM blending system, is used.

AES Baseload System. Palm Jumeirah, Dubai.
Approvals

AES products are designed and manufactured to applicable U.S. and international standards, rules and regulations, including NFPA 58, ASME Boiler and Pressure Vessel Code, European CE etc. Essentially, all our products are Factory Mutual (FM) approved and listed with American Gas Association (AGA), Canadian Standards Association (CSA) and Canadian Gas Association (CGA). They can also be built for Industrial Risk Insurers (IRI) installations.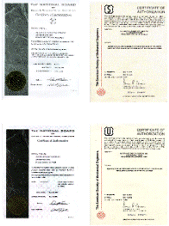 The AES manufacturing operation is ASME (American Society of Mechanical Engineers) -approved and authorized to apply "S," "U" and "R" stamps, and is also authorized to register products with the National Board of Boiler and Pressure Vessel Inspectors. The ASME approval also includes approval of the AES Quality System, which is also registered under ISO9001:2015.
Business Systems

At AES, new products and enhancements to existing products, are designed using 3-D (solid modeling) CAD software, allowing to "see" all components interacting with each other before the first prototype is ever built. This includes moving parts like the piston of the POM in the body of the blending valve.
Customer orders are processed using a networked computer system, which also provides inventory control, work order processing, Bill of Materials, and all financial functions.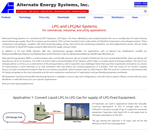 AES has had an Internet presence since 1997. Our website at www.altenergy.com has often been named one of the most informative sites in the industry. Everoyne at AES, including shop personnel has high-speed access to the Internet and email.
The Future
In January of 2018 ownership of AES was transferred from Wolfgang Driftmeier to Steven Chambers, just as the founder of AES, John E. Hallberg, transferred ownership to Mr. Driftmeier in December of 1998.  Mr. Chambers had been in the Engineering department of AES for over a decade before assuming ownership.  All Key personnel stayed on after the sale and additional staff was added to further strengthen customer service, engineering and manufacturing.  Mr. Chambers continues to build on the tradition of excellence and customer service at AES.  At AES, "just good enough" is never good enough.  AES is commited to both quality products and customer service.  We strive to understand our customers and continuously improve so that we can exceed their needs and expectations.
Since Mr. Chambers assumed ownership, new products have been introduced, existing products have been improved, and sales and marketing efforts have been increased. New customers in the United States and in foreign countries have been acquired and several large-scale projects have been completed.
Manufacturing capacity has been increased accordingly, and our facilities have been updated to be ready for further planned growth.
The Customers
The list below represents a very small sampling of our domestic and international AES customers. New names are added every day. If you are interested in a particular reference, please contact our office.
3M Company
Airstream Corporation
Alcan Cable
Alvac
Amana Corporation
American Bridge Co.
American Oil Corp.
American Standard Co.
Anchor Hocking Corp.
AT&T Technology
Bendix Corporation
Bitter Creek Pipelines
Black & Decker Co.
Boise Cascade Co.
Brown Stoveworks
Calsonic Corporation
Cargil
Cascade Corporation
Cerro Metal Products
Champion Paper Co.
Chrysler Corporation
Clark Equipment Co.
Coca Cola Bottling
Colonial Baking Co.
Continental Baking co.
Corning Fiberglas
Del Monte Corporation
Dupont, Inc.
Electrolux Corp.
Entes Company Inc.
Espagas
Exxon (Esso) LP-GAS
Exxon (Esso) Corporation
Fasson (Avery Labels)
Fiat Argentina
Ford Motor Company
Fruehauf Corporation
Frito Lay, Inc.
Gas Sur Chile
General Mot. Argentina
General Motors USA
Georgia Pacific Corp.
Georgia Technical Institute
GAF Corporation
General Dynamics Inc.
General Electric Co.
General Motors Co.
General Tire Company
Glidden Durkee Co.
Goldkist Hatchery
Goodrich, B.F. Company
Goodyear Tire Company
Great Dane Trailer Co.
Guardian Brazil
Guardian U.A.E.
Guardian India
Gulf Oil Corporation
Heil Quaker Company
Holiday Inn
Holsum Bakery Co.
Hon Corporation
Hon Corporation
Hostess Cake Corporation
IBM Corporation
International Paper Co.
ITT Continental Bakery
ITT Corporation
James River Company
John Deere Tractor
Johns-Manville Corp.
Key On Enterprises Ltd.
Kresge, S.S. Company
Kroger Bakery
Land O'Lakes Company
Levi Straus Inc.
Libby-Owens Ford
Lockheed Martin
Logan Aluminum
Lootah BC Gas
Michelin Tire Company
Mohawk Industries
Monsanto Corporation
National Gas Company
Nan Mou Oil Machinery
Oapil
Nestlé
Oscar Meyer Company
Parker-Hannfin Co.
Paz Oil Co.
Pepperidge Farms Inc.
Pepsi Cola Company
Pet Foods Inc.
PPG Industries
Ralston Purina Corp.
Revere Copper & Brass
Ritz Carlton Hotel
Rockwell Int'l
Roper Industries
Scana Propane
Scientific Atlanta
Sharp Energy
Shaw Industries
Shell Chemical Co.
Sherwin Williams Co.
Siemens
Square D Products
Tecumseh Products
U.S. Air Force
U.S. Army
U. S. Navy
UGI Energy
Union Carbide Corp.
Uniroyal Inc.
U.S. Corps Of Engineers
Vaw Of America
Volkswagen India
Volkswagen Mexico
Westinghouse Company
Whirlpool Corp.