Vaporizer/Mixer Packaged Systems
Packaged Systems Overview
Alternate Energy Systems, Inc. manufactures a complete line of packaged standby equipment. These packages, complete with interconnecting piping and wiring, are ready for connection to liquid LPG inlet, properly sized electrical supply, and mixed gas outlet.

Packaged Systems are the combination of Vaporizers and Mixers, complete with surge tank (HVS mixers only), fail-safe operating controls, piping, and accessories; mounted on a common skid for space saving and easy on-site installation. These packages can be factory or field modified to accept flow control systems, specific gravity meters, customized control panels, or a large number of other options, to allow the customization of any system to meet the requirements of any specific application.

All Packaged Systems are designed for outdoor installation and require only nominal preventive maintenance. All units carry Factory Mutual (FM) and Canadian Standards Association (CSA) approval, and are suitable for IRI installations. Quality is further assured as all units are built to conform to the appropriate ASME Code Sections.
Click on a picture below to go to the page for that type Packaged System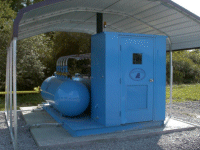 Capacities from 14 MM BTU per hour to over 250 MM BTU per hour.
Product line covering the largest range of applications.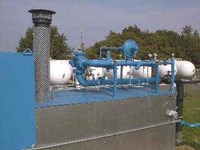 Capacities from 20 MM BTU per hour to over 500 MM BTU per hour.
Ideal combination for large loads and/or high pressures.